Warp and Byte Designs - Workshop
Vest with Curves - Beyond the Cloth, Making Creative Cuts!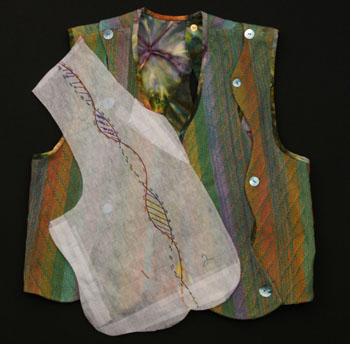 In the Spring 2004 edition of Quilting Arts Magazine, Ann Bowker presented a unique technique for a reversible vest.
I adapted it to handwoven and commercial fabric. It truly can be a one of a kind vest, for starting from a pattern that fits, you first will create your own design pattern of curves. You need to keep your wits about you, for you will be dealing with right and wrong sides, lefts and rights, fronts and backs and if you have diagonals going on in your cloth , you may want to be aware of what they are doing too!!
Workshop Length
1 day - work with paper in miniature, then on True Grid Pattern Paper for actual pattern
2-3 days - same as 1 day, but then using handwoven and commercial fabric start to make your vest. Sewing (either by hand or machine) and embellishment will be done in class as time permits and/or at home.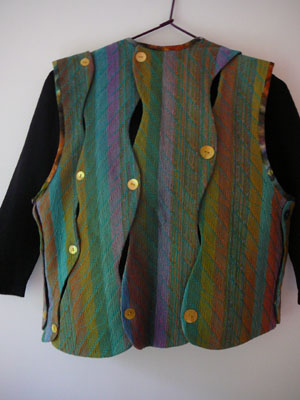 Vest back and close up, showing the treatment of the diagonals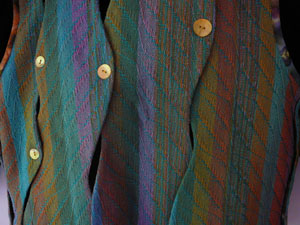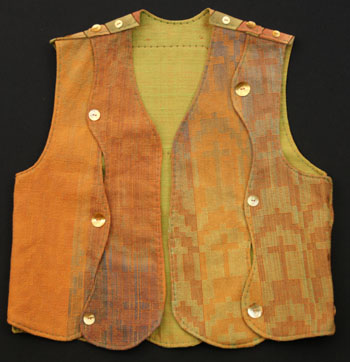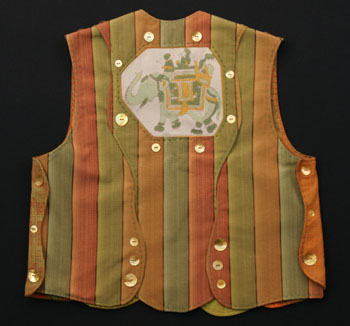 Hand Painted Warp - Ripsmatta
Commercial Fabric for Lining and Back
Wood Block Print from India